Today is going to be a long day as I would be going to Cherrapunji, the wettest region in India. The weather in Meghalaya is too cold, especially during morning. So, I covered myself completely with an inner sweater, a jacket and, a cap.
DAY 3:
Elephant Falls
I left my room around 6:00 AM early morning and started my journey for cherrapunji. Just outside the Shillong city, towards cherrapunji is the Elephant falls. You may cover this after exploring Shillong, but I decided to cover this early morning because the tourists crowd would be less.
Once I reached this place, I kept my rucksack at one of the shops near parking.The people here are so helpful that they readily accepted to take care of my luggage. The elephant falls is a 2 storied falls which was discovered very early and the name was given by a Britisher. Do spend some time here as the place is calm and serene.
Mawkdok Valley Viewpoint
The next stop after the elephant falls is this viewpoint which is on the way to cherrapunji. The roads are pretty much good, and you can drive easily on such roads with no difficulty.
You may take a break at this viewpoint and have something to eat like Maggi, momos, etc. and enjoy the valley view.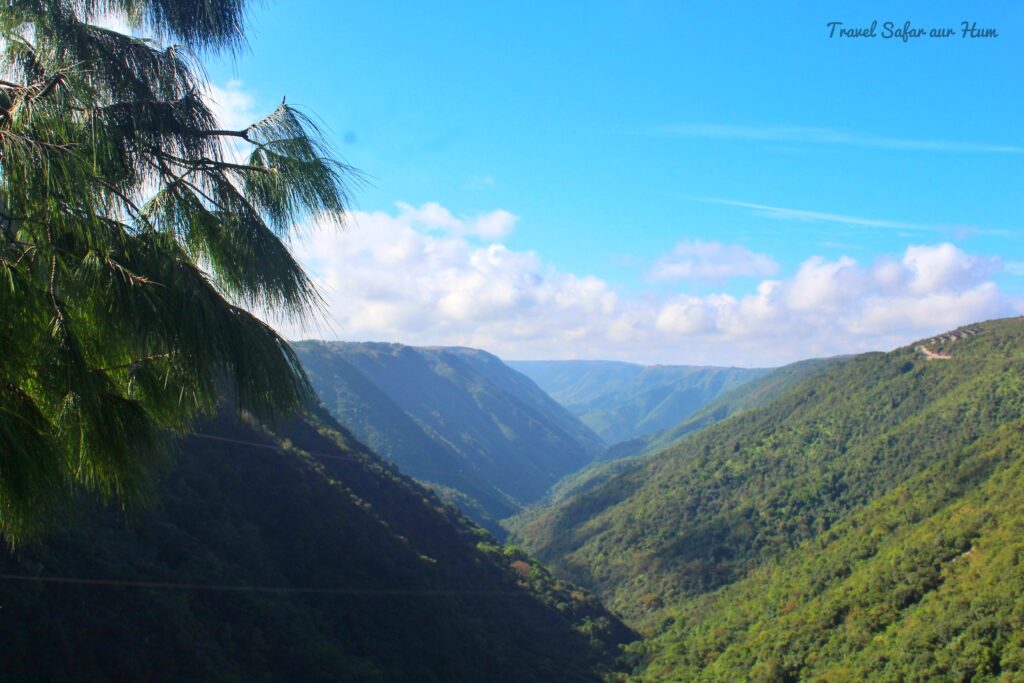 Garden of Caves
So, after a drive of around 20 more kilometres, you must take a left turn from the main highway (landmark: SBI bank: Dongsurok branch) to reach this location. I reached here around 10:00 am.
The Entrance fee is nominal of around 20/- INR but the GoPro and the camera charges are bit high. The caves are a combination of waterfalls, caves and beautiful jungle. This is one of the least explored places and you will appreciate the beauty of this place.
There is definite path where you go from one point and the exit from another point. On the trail you will encounter cascaded falls, different small caves and sounds of birds which will help you to enjoy the beauty of this place.
Cherrapunji
So, it took me around 1.5 hours to complete the entire garden of the caves trail and reach cherrapunji around noon. The distance from shillong to cherrapunji is around 55Km.
I stayed at "By the way hostel" which costed me around 500 bucks per day. I stayed for 2 days. They don't have any online presence for booking, so you must try your luck by going to the location. There are lot of hostels and home stays here, so the stay would not be a problem. If you want to spend some extra money and enjoy the comfort, you may stay at resorts too.
Nohkalikai Falls
After freshening up, I had a light lunch at the nearby place and started for the falls. The road stretch of around 7 km before the falls is not maintained which becomes very difficult to ride. But once you reach the falls, every pain is gone.
This is one of the best waterfalls I have ever seen till date. The color of water, the sound, all these were so beautiful that I was just feeling the beauty for couple of minutes and yes it really blew my mind. Probably the best place in Meghalaya for me.
Mawsmai Caves
The next location was this cave which is around 12 km from the falls but will take you round 30 minutes to reach so you can imagine the road conditions. Mawsmai caves are the only caves in the state which is well lit and is easily accessible. Meghalaya is also known for large number of caves formed of limestone. The top nine longest and deepest caves in India are from Meghalaya. There are more than 1000 caves in Meghalaya and still many unexplored caves.
The Mawsmai caves can be divided into two parts i.e. the new and the old one. Out of the two, the new one is still in the process to get lit. As you make your path from the old cave with wide entrance, the path gets narrower and darker as you proceed further. This will truly give you a feeling of small cave expedition.
If you have an extra day in your hand and you wanted to do some fun and adventure, do go for a cave exploration trail for an entire day in any of the caves and yes you will love it. Some of the cave trails/expenditures are
Krem Tynghen
Krem Umthloo
Krem Chympe
Krem Sim Thabbalong
Seven Sister Falls
The last stop for the day is this seven sister falls which is not far away from the caves and it is the best place to witness sunset. I reached here around 4:00 PM and witnessed the sunset with a cup of hot coffee.
Also, the Bangladesh country can be seen from this place that is the flat barren land of Bangladesh.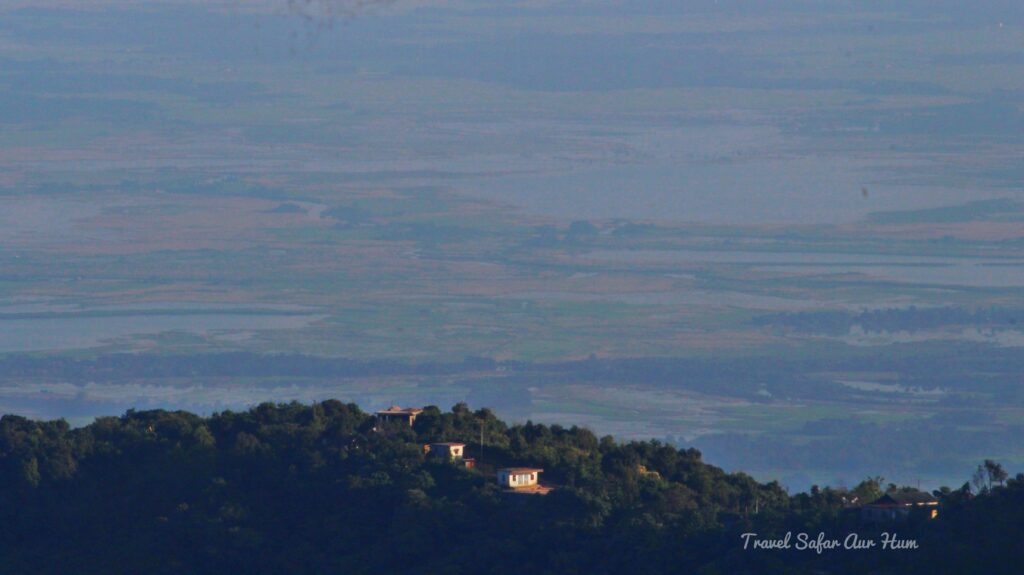 Also, if you are looking for a descent restaurant to have your dinner in Cherrapunji then I would recommend you the restaurant "Orange Roots".
With this, I completed my Day three exploring a lot of places and yeah still excited for tomorrow to go to the famous double root bridge trek for which Meghalaya is famous.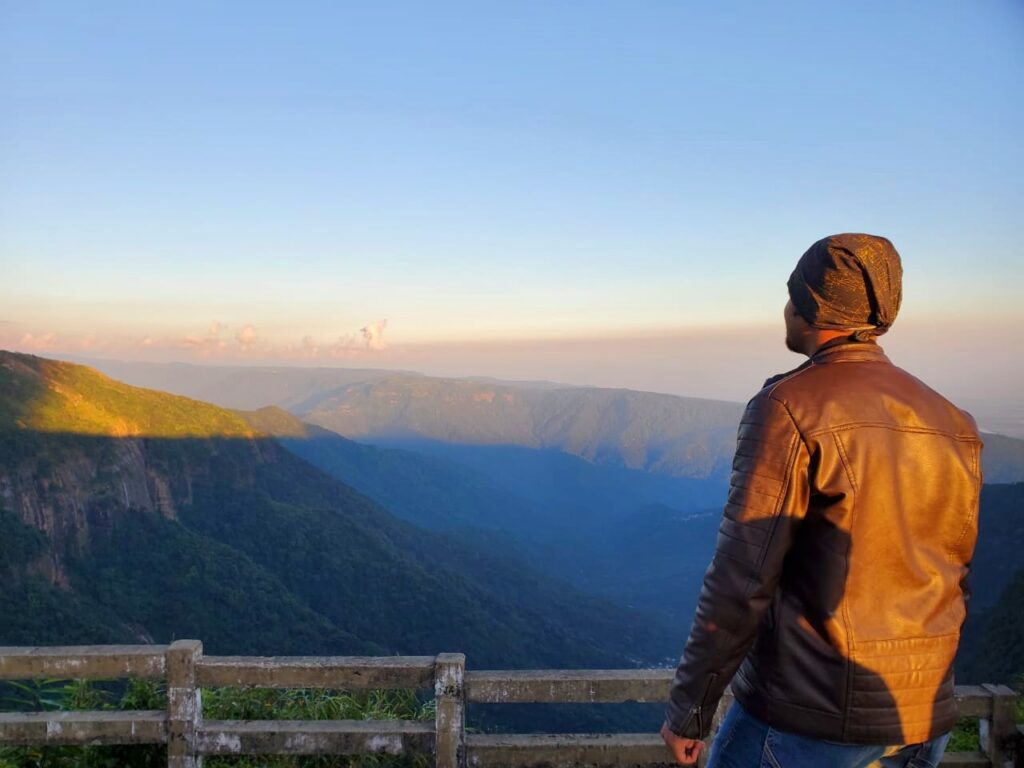 FAQs
Where to stay?
Options for Solo backpackers/Budget travelers in Cherrapunji
By the Way Hostel
D cloud Guesthouse
Not on map Homestay
Options for luxury resorts/Hotels in Cherrapunji
Polo Orchid Resort
Hotel Crescent
The Escapade Inn
Vamoose Cherra Holiday Resort
Do you get network in Cherrapunji?
Apart from Cherrapunji, you would not get network in any of the spots mentioned above. Airtel and Jio has good network coverage as compared to others.
Best way to reach here?
Your own vehicle or any private taxi. You can also get a share taxi/Jeep from shillong costing around 200/- INR to 250/- INR maximum.
How much amount should I carry?
Since there are very few ATM in the city and most of the time cash is not available, so it is better to carry enough cash according to your needs. Note that no card payments are accepted in most of the places.
If you have any more queries, do comment and I will try to clarify it.

Expense Report
| | |
| --- | --- |
| Title | Cost |
| Breakfast at Mawdok vie point | 60 |
| Garden of caves entrance fees | 80 |
| By the way hostel | 500 |
| Nohkalikai entry and parking fee | 30 |
| Lunch | 80 |
| Mawsmai caves entry and parking fee | 60 |
| Dinner | 250 |
| 7 sister fall parking fees | 20 |
| Misc | 100 |
| Total | 1180 |