Continuing from my previous Day 5 blog, this is the last day in Meghalaya and I am going for the Scariest trek of Meghalaya which is the Mawryngkhang trek aka Bamboo trek. This was not on my list until I saw a random video about this trek and decided to include it in my itinerary.
Not many people are aware about this trek or trail, so, I would go in little detail about this place so that you wouldn't have problem planning this place in your Meghalaya itinerary.
Let me tell you story or myth, behind this Mawryngkhang rock/ stone where we would be trekking to.

Legend behind Mawryngkhang
U Mawryngkhang was known as the "King of Stones". He is said to have fallen in love with a girl from another kingdom, Kthiang. However, Mawpator had also fallen in love with her and this resulted in a battle between the two. Mawpator injured Mawryngkhang, but he, in turn, hit Mawpator with such immense force that Mawpator's head fell off in the deep gorge below.
From the viewpoint on top, it is said that you can still see the head of Mawpator in the deep gorge.

How to reach the starting point of Trail?
The base village for this trek is Wahkhen village of East khasi hills in Meghalaya.
As I stated earlier in my previous Dawki blog, I was staying at Silver Brook Hostel near Shillong. I started early morning at around 5.30 AM as I had to reach Guwahati that day itself. The Wahkhen village was around 50 Km from my hostel and it took around one and half hour to reach. So, I started early morning and drove for almost 35 km without stopping anywhere in this chilly climate. I finally halted at a house and had a cup of hot red tea from the beautiful lady who runs a small shop of essentials.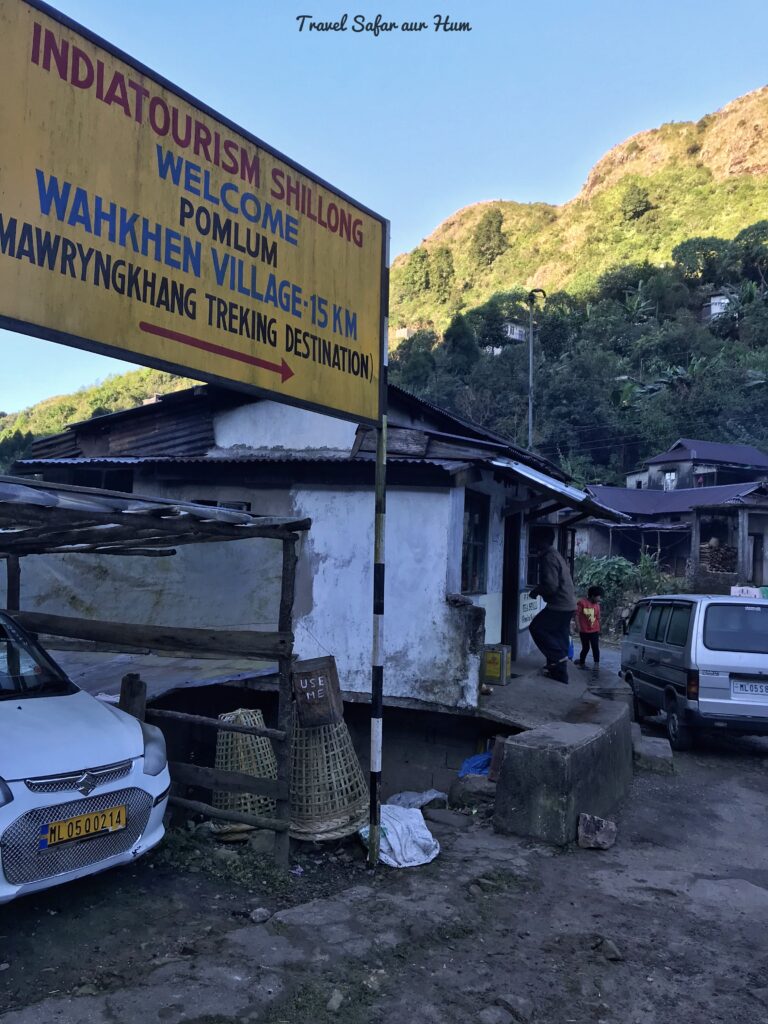 The last 15 km drive towards the Wahkhen village is too bad and takes almost 30 minutes to reach. Below is the distance of this village from popular destinations
Base village: Wahkhen
Distance from Shillong: 50 Km
Distance from Cheerapunji: 51 Km
Distance from Dawki: 61 Km

The Bamboo Trail
I reached Wahkhen village around 7:30 AM. At the start of trek you will find  a man with register who records  names of all people who go for this trek with in time and out time, so that in case you don't come out of this trek in stipulated time, they would  go inside and lookout  for you. I am not trying to scare you; in fact this registration is for your safety. They will charge a nominal fee of around INR 50/-.
The trek to the top of the mountain is around 2 km and the entire trek takes around 4 to 5 hours depending upon your speed and stamina.
First you must trek down to the Wahrew river. I parked my vehicle and started to trek down through the broomstick farm. The natives here are dependent on broomsticks and orange cultivation. Once you cross the farm downwards, you will arrive at the crystal-clear river.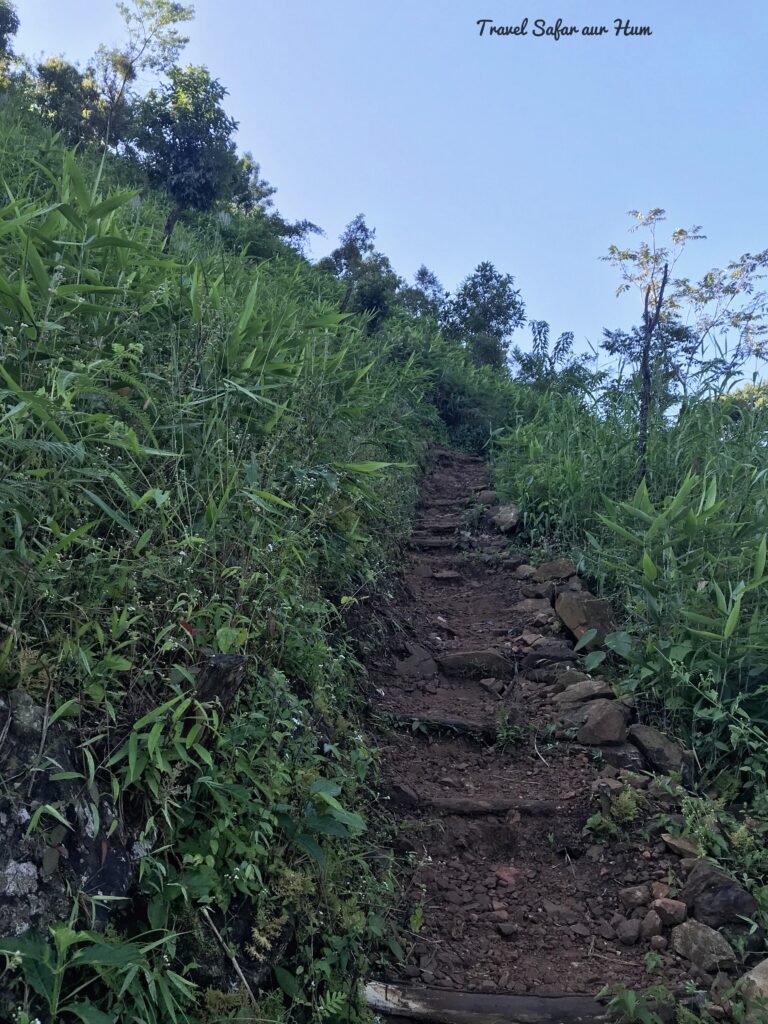 Now, here we must cross the river by a bridge made of bamboo sticks. In fact, there are multiple bridges which one must cross to go to the other side of the river from where the actual trek starts. Take time to gaze the gushing water from one of the bamboo bridge. It feels so pleasant and refreshing!!!
Once I crossed the bridge, bamboo trail disappeared, and I saw the pathway leading again to top of the mountain. After around 20 mins, bamboo path/ trail was visible, and the trail gradually ascends with river on the left side. Bamboo ladders are present almost everywhere and most of them are reinforced with iron for safety. The only path from here onwards is the bamboo path and no natural path.
All these bamboo bridges are made from ecofriendly bamboo and tied with cane ropes and in some places, nails are used to fix these bridges for safety at greater heights. One of the locals told me that these bridges are maintained by them on monthly basis for the safety of the tourists.
After next 20 mins, I reached the first point of the trek which is "Mowmoit", title given to lady. From this point, we can see the U mawryngkhang stone and I would not hesitate to accept that it becomes bit scary from here.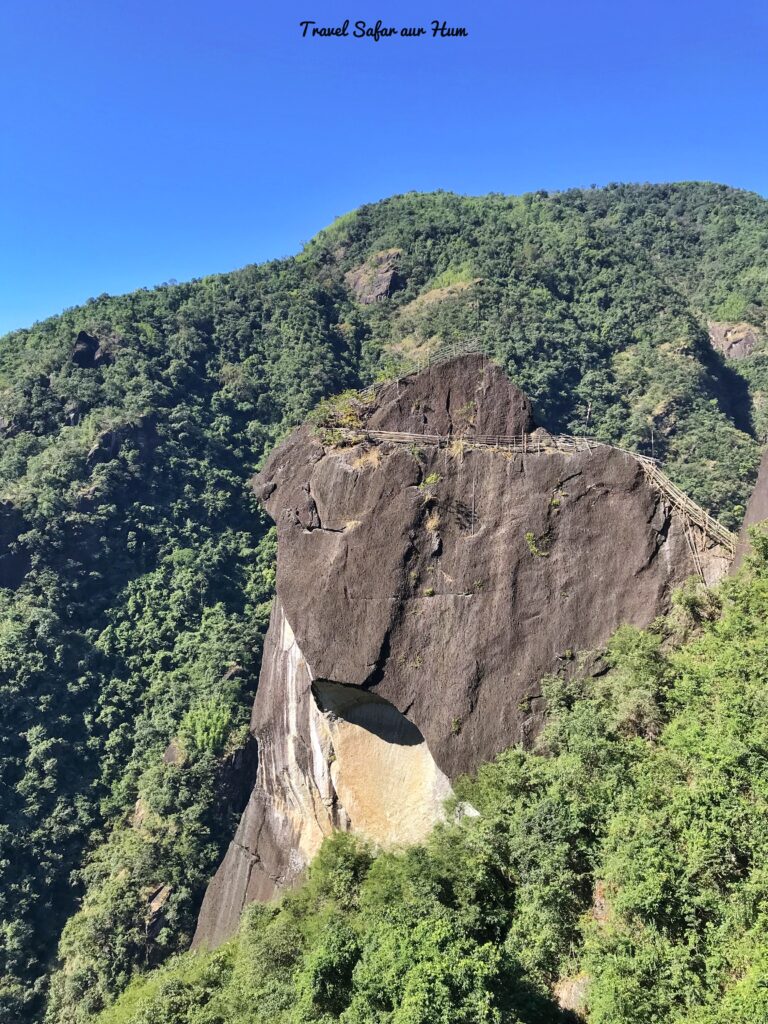 The trek gets tougher from this point and if you are not comfortable going forward, I would suggest just enjoy the view from here and return to base. I had already decided that I have to go till the last point and so started for the last lap of the trek.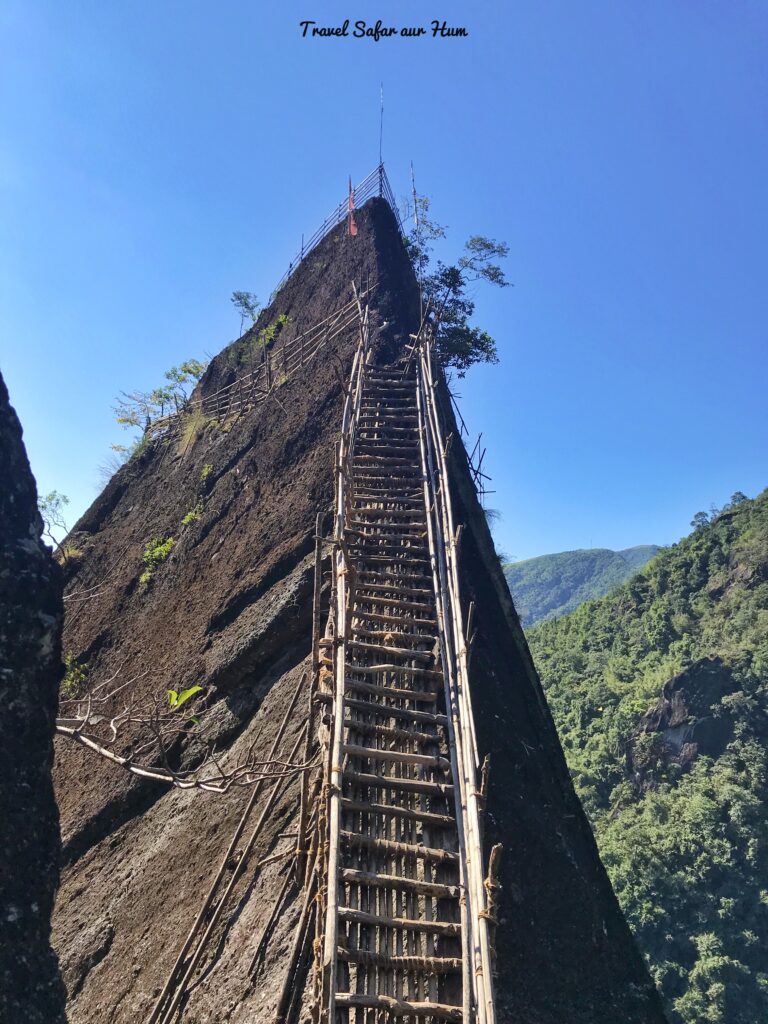 The trek from here gets tougher as one must crawl, duck your head, etc. to reach the last point. There is a 100m tall ladder built to reach the top of the stone and it was too scary to reach here. I didn't spend much time here as I was scared and alone in the entire trek and place. I spent around 15 minutes to enjoy this breath-taking view (although scared!!) and then started to descend the trek. I descended till the river and spent around 30 minutess relaxing. I was lucky enough to find no tourists on the trek. Then I ascended again to the base where my vehicle was parked and started my ride back to my hostel.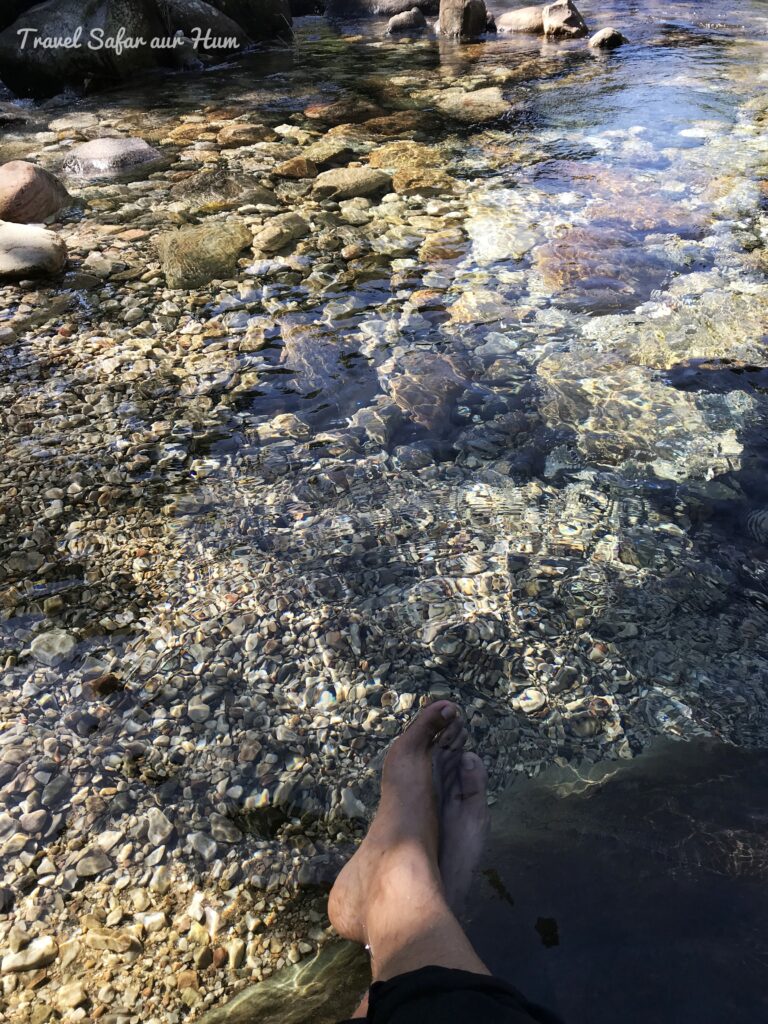 I reached at around 12:00 PM at my hostel and started for Guwahati as I had to return my rental vehicle.   This was the last spot to witness the beauty of the Meghalayas.   With lot of happy memories and experiences, the trip was going to end soon, so I wanted to make this ride memorable. I rode the 120 km in 5 hours, I know that's a lot of time for this short distance. I was taking many breaks in between to soothe and enjoy. In-between I stopped at a dhaba for my lunch and ate a thali which was much needed as I didn't have my breakfast.
The last stop was the Ahija bike rentals in Guwahati where I submitted my moped and went to the hostel. It was a long day and I was very tired, had my dinner, and buzzed off.
Next day I catched my flight early morning to start with the normal routine.
This was my 6-day solo trip to Meghalaya which I tried to narrate in 6 different blogs. Hope that these blogs would help you to plan your itinerary.


FAQs and Fact sheet
Total Distance: 3.54 Km
Difficulty level: Medium (The trek is just scary, not recommended for weak hearted people)
Time taken: 4 to 5 hours
Entrance Fees: 50/-
Trek Route: Shillong – Wahkhen village – Wahrew river – Mawryngkhang rock — return
What all to carry for the trek?
Carry extra T-shirt and some snacks in your backpack for the way, if possible, carry some protein bar. If you are going in rainy season, then do carry raincoat as it rains continuously here. Wear proper sport shoes for the trek due to the rough terrain.
Where to stay?
You won't have a lot of options to stay at this village. The best options would be at shillong or near elephant falls in shillong.
Do you get network throughout the trek?
Nope. None of our network carriers will work here.
Best way to reach here?
Your own vehicle or any private taxi
How much amount should I carry?
Since there are no ATM down there and no card payments, so do carry according to your needs