The place for which Meghalaya is known for is the famous Double root bridge. People who come to Meghalaya never miss this trek, but the main question arises is that how to reach there? What all to carry? Time taken to complete the trek? And so on. Hope so this post will give you all the answers.
First, let me tell you that google maps will not give you the accurate directions to go there so just follow my instructions step by step.
So first let me tell you the story about the place which I have heard from the locals. This bridge is made from Branches and trees. Initially there was a single bridge made from branches to cross the river to the other side of the forest, but during monsoon this bridge used to get flooded and hence they prepared another bridge above that to cross the water stream, hence came the name Double root bridge.
Note: Now there is no use of double root bridge to cross the water stream.
How to reach the starting point?
I started from Cherrapunji early morning around 6:00 AM as I wanted to complete the trek and come back here by evening. I had my own rented vehicle but if you don't have such options then you must take a private taxi from the center (cherrapunji) before evening of the day because the frequency of local taxis going there is very less.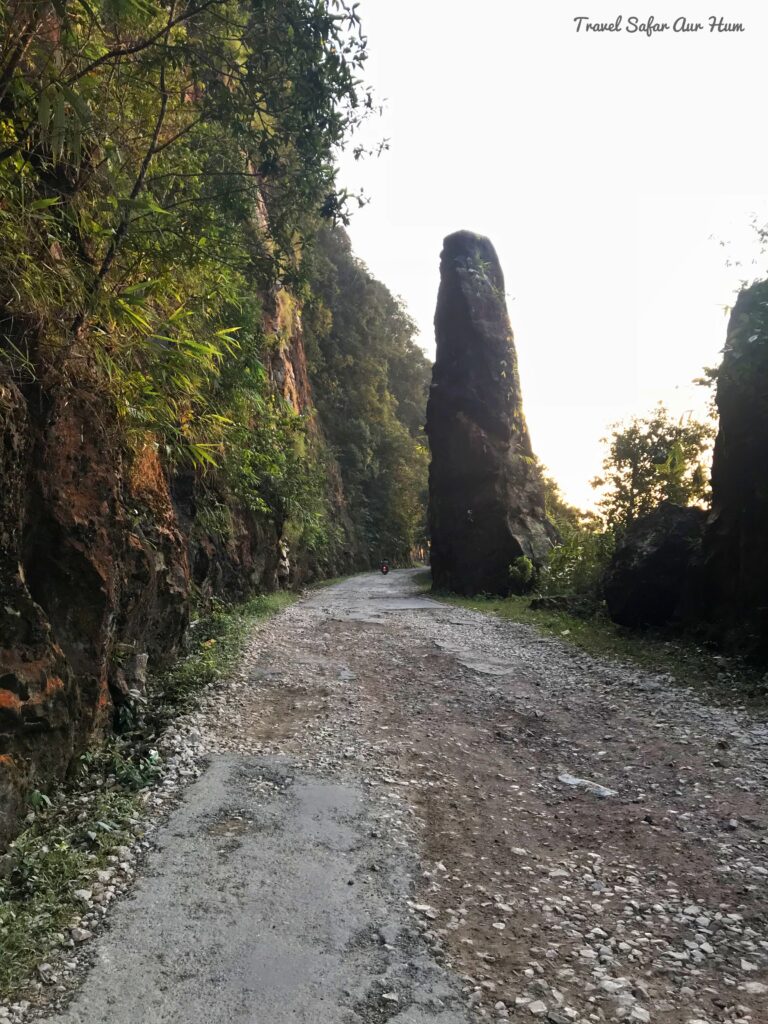 First you must reach a village called Tyrna which is the base to start the trek. The distance is around 3Km but will take slightly more than half an hour as the roads are bad.
Tyrna is a pretty big village and you will find some resorts and hotels in this village.
If you come by your own vehicle, you have to give parking fees of around 20 bucks. Also, a lot of tourist guides will force you to take a guide with them at a high cost but in my opinion, there is no need of guide because the trail is well defined with cement steps and just remember the names of the village.
Base village: Tyrna
Double root bridge village: Nongriat

Trek to Double route Bridge
So, let's start the trek.
There were a couple of local shops selling different items, so I just took a water bottle because there will be no such arrangements ahead. After walking some steps, I found some small kids selling sort of wooden trekking poles made of bamboo for 20 bucks and I bought one which would be helpful for my trek.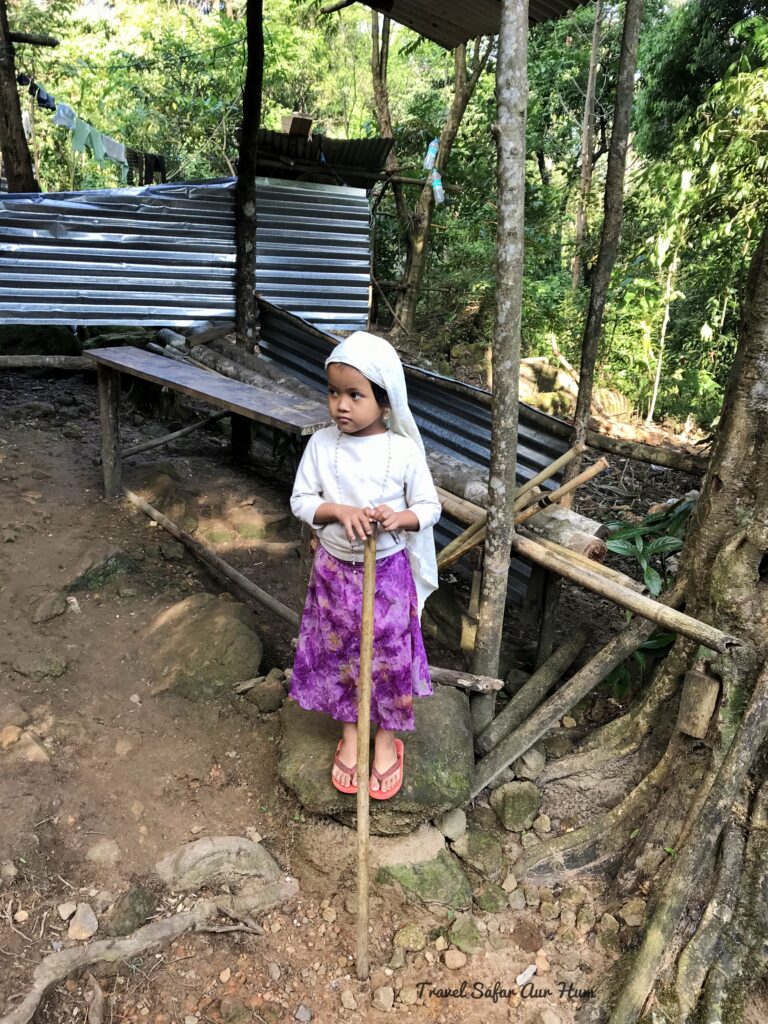 The trek to double root is first downwards that is I have to climb down a significant number of steps which is around 2000 (stated in internet) and while returning I was sure this would be hell lot of pain.
After climbing down for around 25 mins, I came across a path which shows that towards your right is the living root bridge, so I covered that first and then continued the trek after coming to the junction.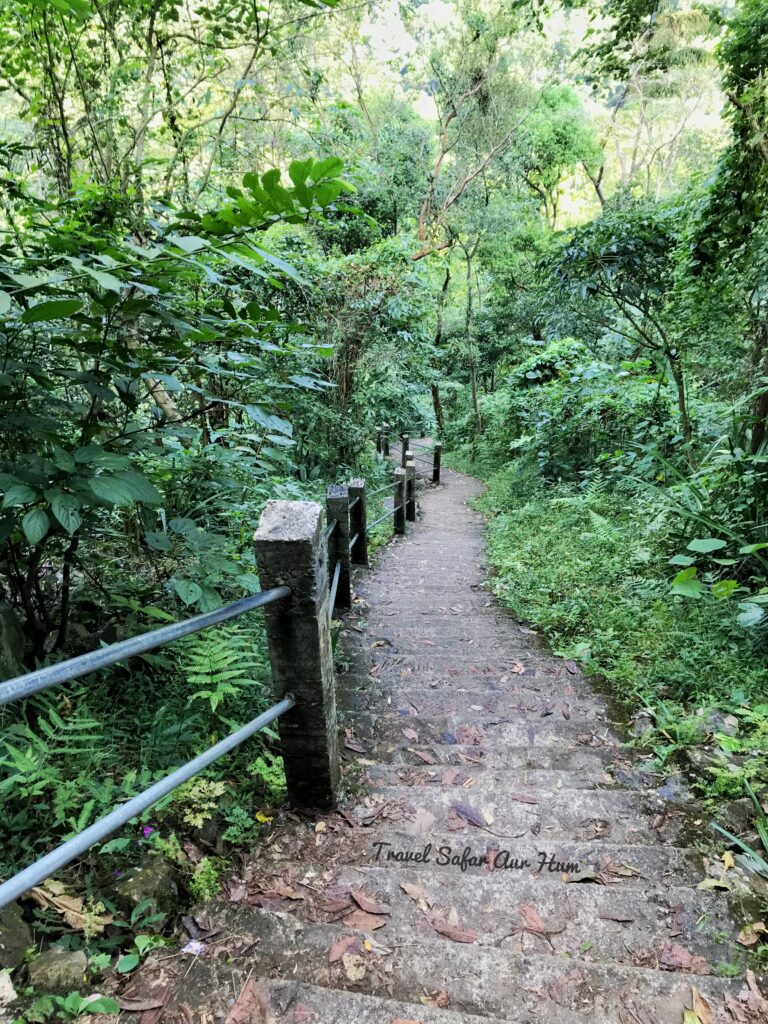 Just remember that while trekking to double root bridge, you will encounter with 2 suspension bridges.
The first bridge is bit less stable as it is smaller whereas the second suspension bridge is longer and firmer than the previous one. The water beneath the bridge was so clear that I stood in the middle of the bridge just to soak into the beauty.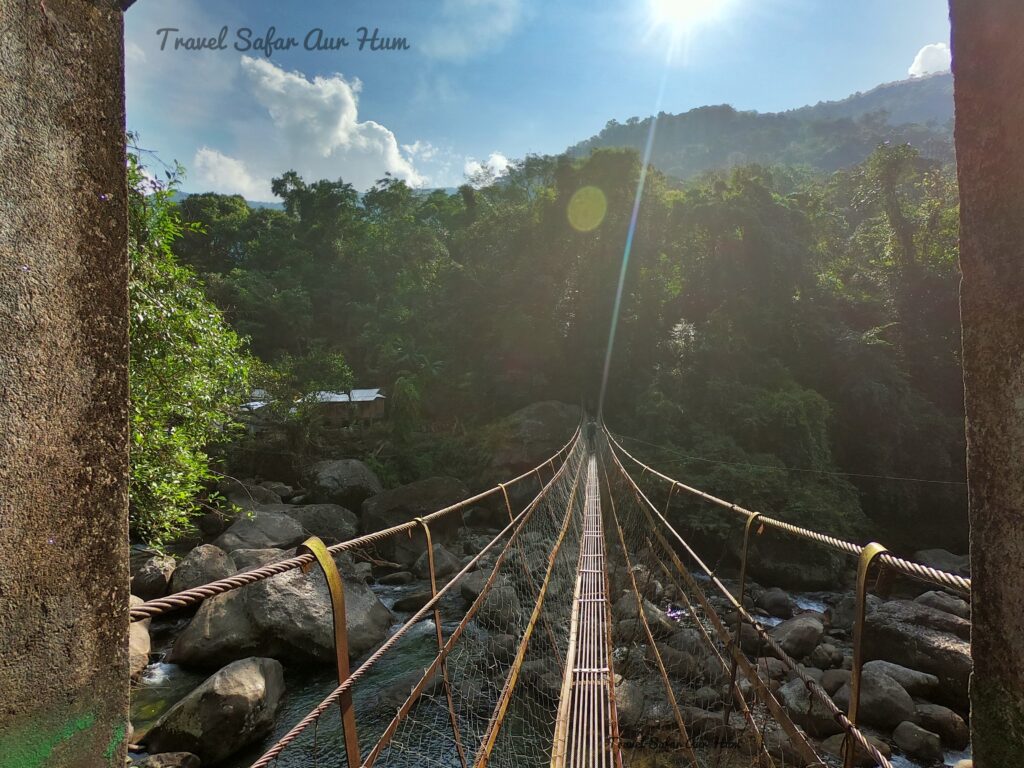 After that I reached to the Nongriat village. Here I found many homestays where you can hop in any one of them at a nominal price of around 600 bucks (depending upon the season). The ideal thing to do is to stay at one of the homestays and climb back the next day but I wanted to go back the same day, so I didn't take a homestay.
So, after crossing this village immediately I encountered with the Double root bridge.
What a beauty!!!
My entire tiredness went off after seeing the bridge, but the place is flooded with tourists as it has become the center of attraction of Meghalaya. People were bathing everywhere in the water stream, so I didn't feel like taking a bath here. I spent some time soaking into the beauty of this bridge.
Note: Entry fee to the bridge is around 20 bucks and everywhere in Meghalaya they charge extra if you have a GoPro.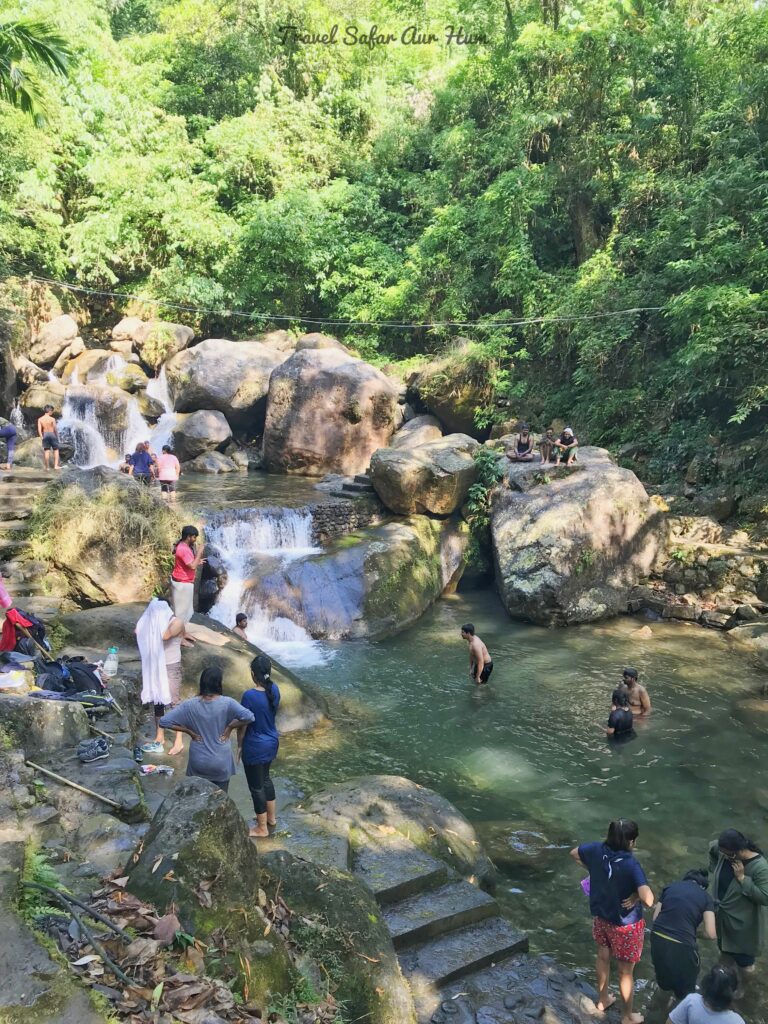 Trek to Rainbow falls:
Mostly families come only till the bridge and it is very difficult to complete rainbow falls and double root bridge in a single day. But I decided that I will not leave this place without seeing the rainbow falls.
I took some boiled eggs and a hot cup of Maggi as my brunch and started for the rainbow falls at around 11.30 AM.
Tip: If you want to complete both the spots, do start early in the morning
The trek to rainbow bridge is same as the way you came to double root bridge. It will take around 1 and a half hour to reach the rainbow falls. The trek is mostly ascend and is bit difficult compared to previous one.
I encountered with very few people during this trek, may be people don't come here often. Halfway to the trek, you will encounter the El waterfall and swimming pool, the water was so clear and transparent that I decided to stop by here if I get time while returning.
After couple of hard steps, I reached the rainbow falls and I found only one American couple with a guide there. The fall was amazing and yes, I did see the rainbow.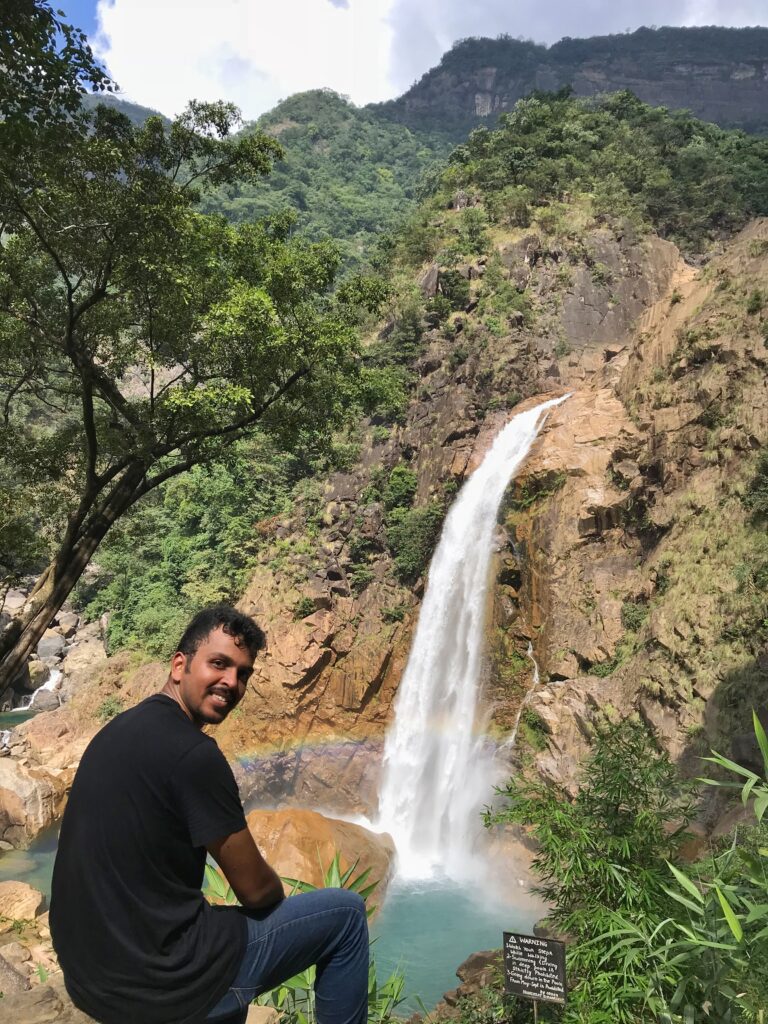 It was almost impossible to go near the falls as the force of water dropping at the stone was huge and you are completed drained in water even if you are not that close to the falls. As they say, indeed the waterfall was beautiful.
I spent some time here and started trekking back towards double root bridge.
I decided to spend some time at the El waterfall and swimming pool where I came at around 1.30 PM. Though I didn't have any plans to go for the swim as I didn't brought any extra pair of clothes. But after seeing the people enjoy and the clear waters of the mountains, I jumped into the water and believe me it was so refreshing that it acted as a pain release therapy for me.
I stayed here for around 20 mins and then climbed back to the bridge and reached there around 2:15 PM.
Trek Back to Tyrna Village
I started around 2:30 from the double root bridge and reached at around 4:45 at the tyrna village. The trek back to the village was difficult as you have to ascend and not descend. After every few steps I was taking the support of stick and believe me it is not easy to complete the entire trek to and from the rainbow falls in a single day.
While climbing back, I engaged with couple of people which motivated to climb us back. I met a couple in their 60s and I was amazed looking at their stamina.
Back to Cherrapunji
Then I started for Cherrapunji at around 5:00 PM and stopped in between the roads just to witness the beautiful sunset.
I reached Cherrapunji around 6:30 PM and directly went to the hotel which I mentioned you which is probably the best in town for vegetarians (Orange roots hotel)
This concluded my Day 4 in Meghalaya with lot of adventure and memories to take for life.

FAQs
What all to carry for the trek?
Carry extra T-shirt and some snacks in your backpack for the way, if possible, carry some protein bar. If you are going in rainy season, then do carry raincoat as it rains continuously here.
Where to stay?
You will get a lot of homestay options on internet but if you try to connect them, it's not possible due to the network. I would suggest you go there and find a stay which will not cost you more than 700 bucks.
Do you get network down there near the bridge?
Nope. None of our network carriers will work here.
How much time does it take to complete the trek?
Tyrna village to Double root Bridge: 1.5 hrs.
Double root bridge to Rainbow falls: 2 hrs.
Rain bow falls to Double root bridge: 1.5 hrs.
Double root to Tyrna: 2 hrs.
Best way to reach here?
Your own vehicle or any private taxi
How much amount should I carry?
Since there are no ATM down there and no card payments, so do carry according to your needs